A month later, a protection plan emerges for the island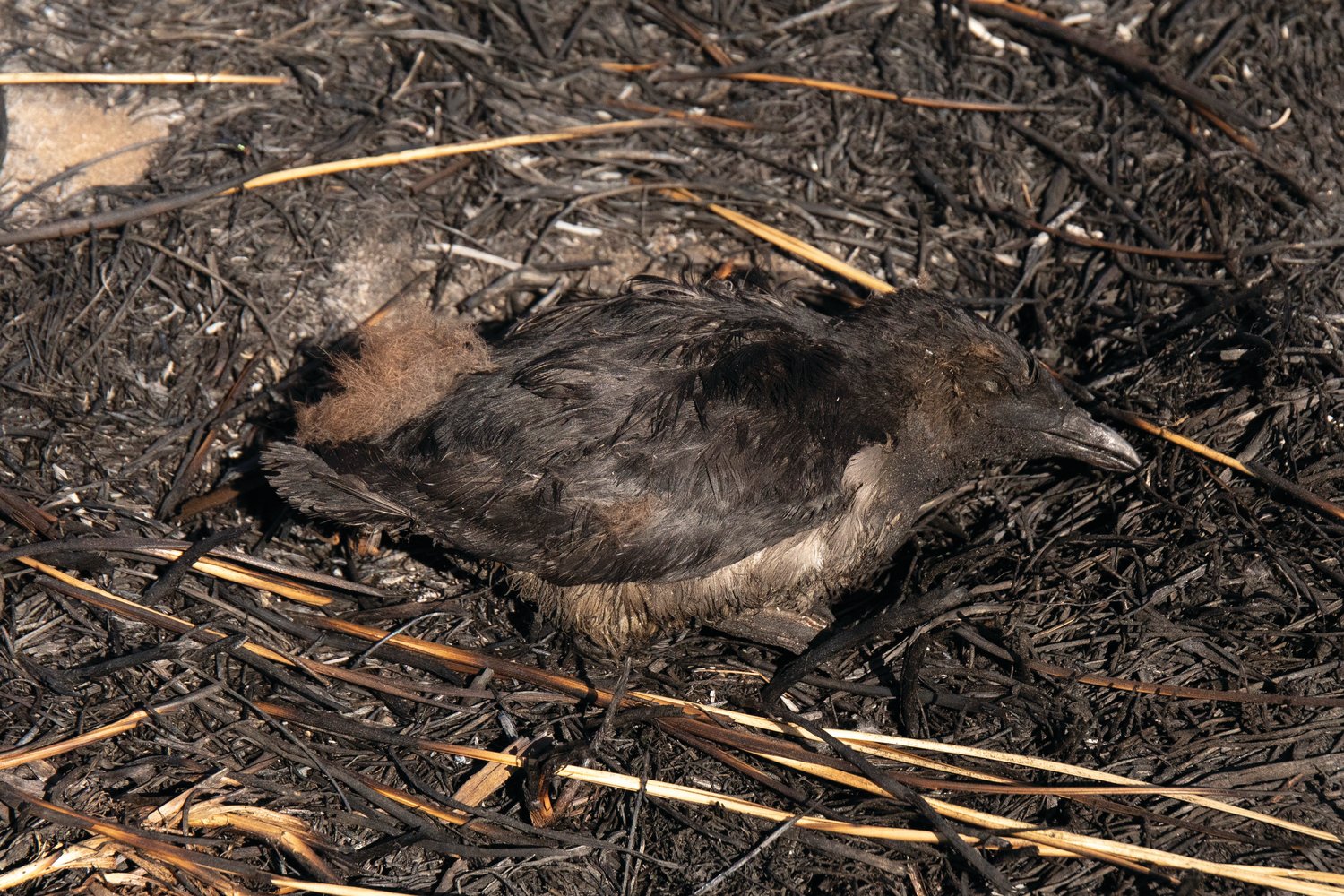 Laura Jean Schneider [email protected]
While the cause of a mysterious fire on Protection Island in early August is still under investigation, the effects are already sobering.
During a recent visit to the burn site, a group of biologists documented multiple fatalities as a result of the blaze.
Scott Pearson, Darric Lowrey and Chad Norris of the Washington Department of Fish and Wildlife, which manages the Zella Schultz Sanctuary, were joined by Lorenz Solloman of the US Department of Fish and Wildlife (who is responsible for the rest of the island) to document the effects of the fire, discuss fire restoration efforts and create a GPS map of the burn area starting August 3.
The damage was obvious.
"We observed dead chicks of gray-winged gulls that were scorched by fire and several dead rhino starfish chicks atop near steep slopes," Pearson said. "They probably starved to death after being abandoned."
Pearson said the burning of Kanem's spire likely resulted in the burning of murre chicks, whose nests are located in the driftwood collected on the spire.
Miraculously, the fire stopped about 30 feet from a puffin nest where, the previous week, adults had been documented feeding their young to plenty of fish.
"The proposed restoration efforts that we were discussing… [are] an opportunity to plant native perennials that are more likely to hold fast eroding soil than the non-native annual grasses that dominate the island's steep slopes, "said Pearson.
Native perennial fescues are said to be a good choice to help prevent soil erosion left bare by fire, he said.
Pearson spoke for the creatures of Protection Island when he urged people to respect the animals that inhabit the island.
"We estimate that there are 36,000 occupied burrows. Some burrows are not in use and in each occupied burrow only one egg is laid each year, "he said of rhino puffins.
Human presence can easily scare birds from returning to their nests, and it is illegal to be within 200 feet of the island.
"Although we do not know the cause of the fire and an investigation is underway, it is difficult to imagine that the fire started naturally given the weather conditions that day," said Pearson said.
Anyone with information regarding the fire is encouraged to contact the Washington Department of Fish and Wildlife Enforcement at 877-933-9847, via wdfw.wa.gov, or by SMS. Photos can be sent to the service at TIP411 (847411).