Abby Seiff on the slow death of Tonlé Sap Lake in Cambodia – The Diplomat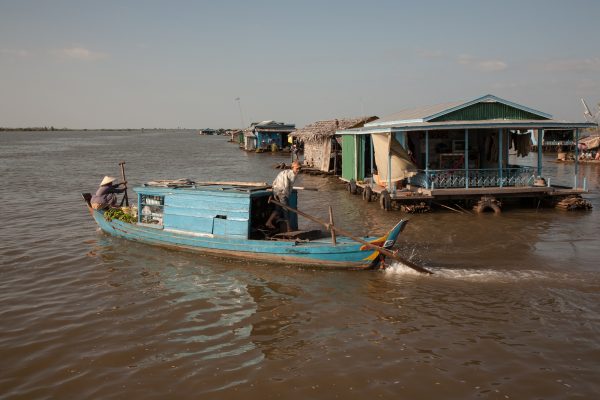 Cambodia's Great Lake – the Tonle Sap – is in trouble. The lake and its inhabitants face the converging impacts of global climate change, upstream hydroelectric dams, and illegal fishing encouraged by government corruption. All have combined to threaten the lake's nourishing flood impulse, which for centuries has supported the world's largest inland fishery and provided Cambodians with their main source of protein.

In a new book, "Troubling the Water: A Dying Lake and a Vanishing World in Cambodia," based on years of reporting around the Tonlé Sap, writer and journalist Abby Seiff examines the "perfect storm" of challenges facing the lake. faces and those who dwell on and around its waters. She spoke with The Diplomat about the unique ecology of the Great Lake and whether there is any hope for its long-term survival.

For centuries, detailed descriptions of the Tonlé Sap have filled the reports and journals written by foreign visitors to Cambodia. Can you describe what sparked this attention? What makes the Cambodian "Great Lake" unique?
When you think back to these historical and outward descriptions – whether we're talking about the Chinese emissary Zhou Daguan in the 1290s or the French polymath George Groslier in the 1920s – there is invariably a real sense of awe at the size of the Lake. and the amount of fish. I think in the book I used the word breathless, and that's the tone of so many of these stories. Whether these visitors access the lake on foot or by boat, via the Tonle Sap River, there is bound to be a moment when the lake unfolds in front of them and it is like an ocean: just absolutely immense.
And then, of course, the second aspect is fishing. They talk about fish as big as whales, and fish so plentiful that people walk to shore and pick up their dinner with a wicker basket. There are too many species to name, not just fish but birds, crocodiles and turtles and so on. And then, of course, above it all looms the "double movement" of the lake, as French colonial explorer Lieutenant Jules Marcel Brossard de Corbigny put it. The lake expands and contracts with the seasons and they witness the movement that occurs with this; overflowing banks, trees submerged by water, whole villages floating following the water. Who couldn't be stunned by all this?
Your book goes into great detail about the importance of the Tonle Sap to those who live on and around its waters. Can you tell us a bit more about the economic and social importance of the lake? How many people depend on the expanding and contracting waters of the Tonle Sap?
I have struggled to find reliable data on how many people, specifically, live on and around the lake and owe their livelihood to the lake. There are numbers ranging from 1 to 4 million, to only "millions". So, unfortunately, I think it's hard to be too specific on this question. What is clear, however, is that a significant part of Cambodia's population (16.7 million) depends directly on the lake, and an even larger part depends indirectly. We must remember that the lake plays a vital role not only for fish, but also for rice. Much of the country's rice is grown in the Tonlé Sap floodplain, and farmers around the lake are reporting a sharp drop in yields as water levels remain low.
And then we also see a decline in the yield of freshwater fish. Those indirectly dependent on the lake are yet to see the impacts, largely due to fish farms (which have their own problems, but now produce roughly the same amount of catch – around half a million tonnes per an.) But those directly dependent on the lake face absolute devastation. These are people who are already among the poorest and most vulnerable – especially those living in floating villages – and now many say they cannot even fish enough to feed their families, let alone sell and have income. So it's very destabilizing and leads to high levels of debt, high rates of young people migrating for work, and all the ripple effects that come with extreme poverty.
Your descriptions of the lake and its inhabitants are shot through with a sense of melancholy, as centuries-old social and ecological rhythms are disrupted by climate change, corruption, and upstream hydroelectric developments. Briefly, how have these changes impacted the lake and those who live there?
For those who live on the lake, it looks like that perfect storm. I see this as a local, regional and global problem. There has been a series of extremely bad, consecutive drought years, which has led to lower water levels in the Mekong and, as a result, lower water levels in Tonle Sap Lake. Then we also have hydroelectric dams on the main Mekong and its tributaries, which impact fish migration and the flow of nutrient-rich silt – but also change how and when the water moves. downstream. Finally, there has been fairly rapid population growth on and around the lake, putting much more pressure on the fisheries. There is heaps of illegal fishing going on – on a large scale, but also on a small scale with desperate fishermen who feel they have no choice but to use illegal methods (like nets small caliber) because otherwise they cannot catch anything.
This means for anglers that they catch fewer fish, smaller fish and fewer species. I mentioned historical descriptions earlier, but what is striking is that you don't have to go that far back for these kinds of descriptions. Many people I spoke to in their thirties remembered prodigious fishing in their childhood. And those who were just a little bit older, people in their 50s and 60s, said there were so many fish that they jumped in the boat, or they could be pulled out of the water with a bowl.
Like much of the lower Mekong basin, the Tonle Sap has been hit hard by climate change, but outside of the larger climate context, how has the Cambodian government approached the Tonle Sap? Have its policies recognized the vital ecological, economic and cultural role that the lake plays? What does the fate of the lake say about the development trajectory of Cambodia as a whole?
The million dollar question! It's complicated to answer. At some level, yes, of course, the government recognizes the vital role of the lake. It is truly the pride and joy of the country. In the late 1990s, the lake and its surroundings were designated a UNESCO Biosphere Reserve, with bird sanctuaries, Ramsar sites and various conservation areas within these boundaries. Given the extent of deforestation around the lake, some of this was probably "too little, too late" (as the WWF put it), but it's certainly an important signal and in some areas – Prek Toal, in particular – this has undoubtedly helped support endangered species.
The biggest issue is, as with many protected areas in Cambodia, whether policies on paper translate into real-world application. So again and again with the lake, we just saw a situation where great laws don't always translate into great enforcement. NGOs and residents report numerous large-scale illegal fisheries, but it appears that most enforcement measures target individual and family fishers. There was an excellent report on VOD recently about the massive deforestation of the protected wetlands surrounding the lake – carried out by local authorities and hired out to farmers. In December, Prime Minister Hun Sen ordered that these lands be seized and reforested. So it happened at a rapid pace with the ACU allegedly investigating these officials. And of course, it is an excellent decision, very important and certainly worthy of congratulations. But this has been going on for years and years quite openly. It's not the kind of thing you can hide. And now, ultimately, it will be those little people – in this case, the farmers who have spent money on land and seeds and so on. – who will pay.
As for what we see happening on the Tonlé Sap, it is not that different from what we see in Prey Lang or any other protected area. It is a rich natural resource and if powerful people see that there is a way to make money from it, they will. If we talk about development trajectory, I think unless these sites are really protected; unless the vulnerable people who depend on them receive sufficient support; unless there is a major anti-corruption effort, it just feels like the situation cannot be improved much.
Amid this series of challenges, is there reason to be optimistic about the future of Tonlé Sap?
It's probably hard to be optimistic, but I don't know if it's completely hopeless. Things like cracking down on flooded forests is one step. On a more macro level, the price of solar power is falling rapidly, which means that governments could increasingly think about prioritizing this over hydropower. Cambodia has imposed a moratorium on the main dams – perhaps it will also do so with the tributary dams. China maintains a regular and open dialogue with lower Mekong countries and has signaled its willingness to use its reservoirs to help alleviate drought downstream. At the same time, the micro-situation of fishermen directly dependent on fish seems to be getting worse year by year and without major efforts to help them, it is hard to be too optimistic about them.