Authorities hope tiger numbers increase amid new and emerging threats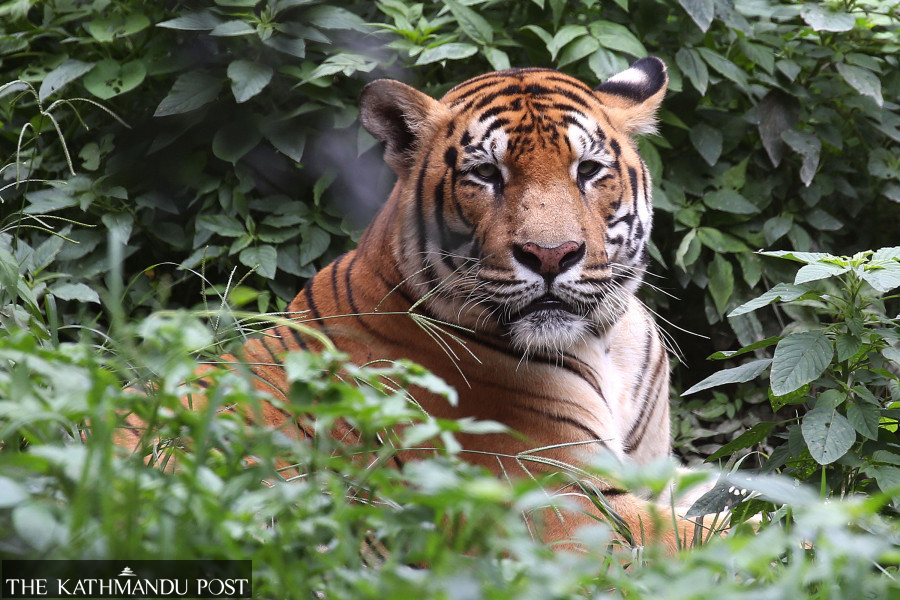 Nepal is leading the national tiger census from Sunday, with authorities hoping to see an increase in the number of big cats, continuing the trend of the country's progress in tiger conservation over the years.
Bedkumar Dhakal, spokesperson for the Department of National Parks and Wildlife Conservation, said the census would last until mid-January.
The tiger population in the country, according to the latest tally in 2018, stands at 235, very close to reaching the "TX2" target.
In line with its commitment to the Global Tiger Recovery Plan (TX2), which was endorsed by 13 countries with a tiger population, during the 2010 St. Petersburg Declaration on Tiger Conservation, Nepal signed up to strived to double its tiger population to 250 by 2022.
Nepal's success in increasing the tiger population has received praise at home and abroad, but concerns have also increased as the number of big cats increases.
"The progress so far is good. We have seen a remarkable increase in the tiger population – by 94% in 10 years – from 121 in 2009 to 235 in 2018, "said Hemsagar Baral, national director of the Zoological Society of London, Nepal Office. "But we have to keep the momentum going. We must work to improve corridors and protect potential habitats. Further action plans are needed.
The 2016-2020 action plan of the Department of National Parks and Wildlife Conservation aimed to improve and restore critical tiger habitats and corridors.
When there are more tigers, they need more food. Maintaining the density of prey is a major challenge for maintaining the tiger population.
The 2016-2020 action plan also aimed to manage grasslands and wetlands vital for the tiger and its prey species.
The government has not yet developed a new action plan.
Prey densities in all protected areas decreased between the 2018 census and the previous census held in 2013.
According to the "Status of Tigers and Preys in Nepal" report published by the Department of National Parks and Wildlife Conservation in 2018, the number of prey increased from 25.33 per square kilometer in Parsa National Park to 22.02.
In Chitwan National Park, the prey density increased from 73.63 per square kilometer to 70.7.
Banke National Park had the lowest prey presence among parks as it increased to 8.1 animals per km² in 2018, up from 10.27 per km² in the previous census. Bardiya National Park, which received high praise for showing impressive growth in tiger population, bringing their number to 87 in 2018 from 50 in 2013, has seen a drop in prey density from 92.6 to 77 , 51 animals per km². The prey population in Shuklaphanta National Park has increased from 78.62 animals per km² to 68.04.
"While controlling poaching remains a challenge, there are emerging threats," said Dinesh Neaupane, wildlife researcher at Resources Himalaya Foundation Nepal, an organization working in the natural sciences and biodiversity.
"There are risks of habitat loss due to climate change. As we work to increase the tiger population, we must also constantly find places for the big cats. "
According to Neupane, tigers have recently been sighted in the Chure Range as well.
"The big cats go up… in the high hills," Neupane told the Post. "We need more studies on why tigers climb mountains. Is it because of the rising temperatures?
A massive drop in the number of tigers in Chitwan National Park, from 120 in 2013 to 93 in 2018, has also raised alarm bells among environmentalists.
Studies have shown that the increase in invasive species in Chitwan National Park has resulted in habitat decline.
The loss of habitat and prey also leads to human-tiger conflict, posing a major challenge to conservation efforts, experts say.
In the first eight months of the 2020-21 fiscal year, at least 10 people were reportedly killed in tiger attacks in Bardiya National Park and its only buffer zones.
Environmentalists, however, say it would be wrong to assume that human-wildlife conflict has increased simply because of the increase in tigers.
"There is a need to study and understand the full dynamics of the human-tiger conflict," said Kanchan Thapa of WWF Nepal, who holds a doctorate in tiger conservation. "Each individual case requires a detailed analysis. "
In a 2018 report, the Department of National Parks and Wildlife Conservation said tigers only contribute about 2.78 percent of total human-wildlife conflict nationwide, compared to 67.52 percent. one hundred for the elephants.
Naresh Subedi, wildlife expert and spokesperson for the National Trust for Nature Conservation, also said that as tigers' contribution to human-wildlife conflict is comparatively smaller, there is a need to investigate the cause of the conflict.
"By uncovering the cause of these conflicts and the nature and dynamics of these conflicts, we can work to minimize human-tiger conflict," Subedi told the Post. "Conflict Mitigation Programs and Problematic Tiger Watch and Rescue [those that often stray into settlements] will contribute to the coexistence between man and fauna.
Nepal's tiger conservation efforts date back to 1972, when the Tiger Ecology Project was started in Chitwan. This followed the establishment of Chitwan National Park, the country's first national park.
Banke National Park was established in 2010 while Parsa Wildlife Reserve was designated a national park in 2017 for tiger conservation.
Created in 1976 as a Shuklaphanta wildlife reserve, it was designated a national park in 2017.
The first tiger census took place in 2009.
According to the last census in 2018, Chitwan National Park was home to 93 tigers, Bardiya National Park had 87, Banke National Park had 21, Parsa National Park had 18, and Shuklaphanta National Park had 18 tigers. was 16.
Officials said surveys would be carried out in all protected areas to count the number of tigers.
The National Trust for Nature Conservation, WWF Nepal and the Zoological Society of London Nepal are providing technical and financial support to the Department of National Parks and Wildlife Conservation to conduct the census.
Authorities say they have divided the areas where tigers live into three complexes: Chitwan-Parsa, Banke-Bardiya and Shuklaphanta-Laljhadi-Jogbudha.
According to Dhakal of the Department of National Parks and Wildlife Conservation, the current census project will cost around 30 million rupees.
"The census will take place in several phases starting from the Chitwan-Parsa complex. We will be using a total of 3,328 camera traps, "Dhakal said. "In the following phases, investigators will count the tigers in two other complexes. About 100 surveyors were trained for the first phase alone.
Authorities use 13 elephants to count tigers, seven in the Chitwan-Parsa complex and three each in the other two complexes.
Nepal increased its tiger population from 121 in 2009 to 198 in 2013 and then to 235 in 2018.
The tiger census is usually done during the winter because of the higher chance of spotting them easily.
"Winter is the best time to take a tiger census," Thapa of WWF Nepal said. "The vegetation is generally intact during this season and the tigers come out of the bushes to look for dry places. They try to find paths to lines of fire in the jungle, areas without vegetation, and flood plains where the chances of spotting tigers are high. "