Crews extinguish hotspots of Poles Hill fire | New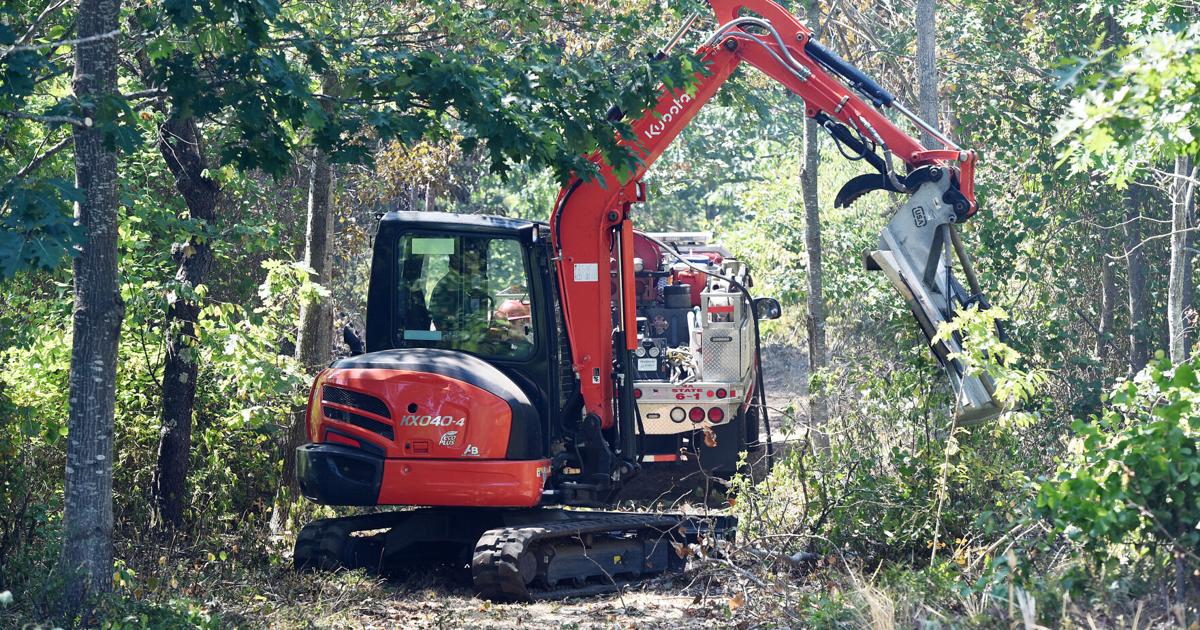 The day after a three-alarm brush fire on Poles Hill in Wheeler's Point burned 10 to 11 acres with no reported injuries, city and state crews were out on Tuesday to douse hot spots and use gasoline. heavy equipment to make your way through the heart of the thick woods. where the smoke was rising.
The Massachusetts Fire Department and Forestry Services were also conducting "controlled burnouts in the area," Mayor Greg Verga said in an appeal to residents, warning that the burnouts would lead to additional flames and smoke.
Amid persistent drought conditions in Cape Ann, the city has banned outdoor fire pits, fire pits, fireplaces and recreational open fires. Authorities are also asking residents not to put out or throw cigarettes outside.
Meanwhile, in Rockport, crews continue to battle a stubborn bushfire at Woodland Acres in the Pigeon Cove section of town that they've been battling for two weeks.
"It's by no means extinct," said Rockport Forest Fire Ranger Michael Frontierro. Firefighters check it three or four times a day.
In Gloucester, residents were urged on Tuesday to avoid Poles Hill if possible.
While walking around the neighborhood around noon, a house on Wheeler Street had tangled fire hoses in its driveway and yard. Another pipe line not in use at the time meandered along the Poles Hill Conservation Area Trail from Riverview Road to Sunset Hill Road. Police had blocked Wheeler Street and Riverview Road to traffic.
Crews from the Fire Department, State Department of Conservation and Recreation Wildfire Unit and Massachusetts Wildfire Control were on the scene.
"We've had a bit of an extension in that direction," Deputy Fire Chief Robert Rivas said as he stood on the trail not far from Sunset Hill Road at noon. "Crews are working up there as we speak." He said they were trying to clear a path in case the fire broke out and give them better access.
"We don't have a way to get in there right now, so we're trying to create an access for ourselves to get in there and knock down the little remaining sections, the hotspots, that we have," Rivas said. He estimated the bushfire had burned 10 to 11 acres.
Rivas said firefighters put out a small campfire in the area on Sunday evening.
"And we don't know if that's the cause of this fire or if it was something separate," Rivas said.
Crews were dispatched around 10.45am Monday to the brush fire which ignited in dry and windy conditions.
Riverview Road resident Jacqueline Pino had ashes on the cushions of outdoor furniture on her side patio on Tuesday. She said she smelled smoke when she returned home on Sunday afternoon and the fire broke out on Monday morning.
Pino said there was quite a bit of ash on Monday, which was concerning. She said two or three years ago there was a fire in the area, however, "I don't think it was as big as it was (Monday)."
Rivas said Monday that homes near the fire were not in danger. Crews from the Hamilton, Essex, Danvers and Salem Fire Departments responded to the scene with the Lynn Fire Department's drone unit, according to Fire Chief Eric Smith.
Gloucester Police and Public Works also responded, as did the Beauport Ambulance Service. The Peabody, Manchester and Middleton Fire Departments provided station coverage. Monday's fire was brought under control around 3:45 p.m.
Rockport crews were in Woodland Acres on Sunday after local and state firefighters performed a "back burn" in the area on Saturday, Frontierro said. They had been out at 3am on Tuesday after receiving reports of smoke, although he said it was from the Poles Hill fire, and again on Tuesday evening. He said the state has done a good job opening up the perimeter so crews can move in to check on the fire.
"We don't have the water capacity to extinguish the medium," he said.
Rockport plans to hold a community information session about the wildfire on Wednesday, August 3 at 5:30 p.m. on Zoom. Scheduled to provide information is Frontierro, the DCR state wildland fire chief and district chief. You can find the Zoom link on the city's website at https://www.rockportma.gov/home/news/woodland-acres-forest-fire-community-information-session.
"Residents should remain vigilant by watching for signs that the fire has restarted in areas near them and call 911 if there are no firefighters in the immediate area," Verga said.
Ethan Forman can be reached at 978-675-2714 or [email protected]