Environmental Artist: Thomas Kuchenbecker Hopes His Watercolors Will Inspire Conservation | Community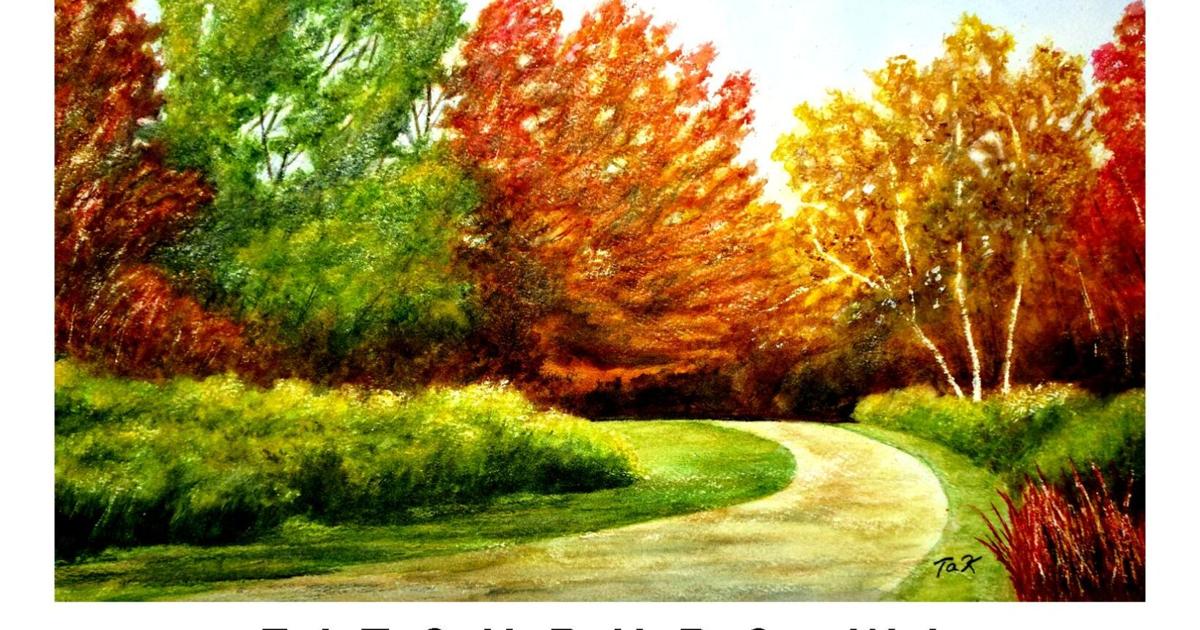 A watercolourist for 40 years, Thomas Kuchenbecker says his art is "on a mission, with a message."
His photorealistic works are meant to show his love of nature and the environment, while he also hopes to bring tranquility to those who view his art.
Originally from Wisconsin, he has resided in Fitchburg for 16 years. In 2013, he built a house in the Buttonbush Drive neighborhood, and its many windows offer resplendent views of the Capital Pathway and nearby prairie.
He brought this prairie closer to his home by creating a habitat of native plants and wildflowers in his backyard, designed as a bird and bee sanctuary.
He sowed over 300 plants – about 50 pounds of seed – including black-eyed Susan, purple coneflower, chicory and various native grasses.
"Part of my whole philosophy of art is the appreciation of nature," he said. "I love this frame."
He said it would take between three and seven years to set up a backyard meadow, and for him it took all seven years – but he blames himself.
"If I had done it the right way, it would have been cheaper, faster and less work," he said.
His prairie garden has occasionally attracted hawks and deer, but it's two birds in particular – a pair of sandhill cranes – that have become his artistic muses. Affectionately named Sammy and Sandy, Kuchenbecker's garden has become a meeting place for them – despite having been residents of the neighborhood before him, he said, and even before the neighborhood itself was built.
They arrive each March from their winter home and stay until early November, providing wonder and amusement as they roam around people's yards, he said. He is glad they feel at home in his yards, spending a few hours relaxing or in the shade before moving on to another yard.
They eat from Kuchenbecker's bird feeders and drink from his birdbath – and have become accustomed and adjusted to humans, following him to the feeder when he goes to restock it, Sammy coming within a foot from him.
"Sadly, Sammy and Sandy are examples of how ever-expanding human civilization and development is slowly pushing wildlife out of their original habitats," he said. "The fauna must then learn to adapt, diminish or perish for lack of living space. Hopefully, humans learn to adapt, share and provide a habitat for nature, because nature provides a lot of pleasure to humans and deserves to be preserved.
He created a tribute to his feathered friends by creating a painting titled "Backyard Buddies," and hopes some of his works can inspire viewers to do their part to protect the environment.
Another painting he did with environmental intent was of a pair of bald eagles he saw on Blackhawk Island in the Dells of Wisconsin. When the bird was chosen as the symbol of the United States in 1782, there were about 300,000 to 500,000 mated pairs nationwide, Kuchenbecker said. But in 1963, there were only about 500 pairs left. Thanks to the DDT ban, increased law enforcement and other efforts, populations are on the rise again, he said.
However, not all of the animals he paints are endangered – one, quite the contrary. In his work "Good Moo To You", he immortalized Doepke, a show Holstein cow who resides on a family dairy farm near Waterloo. Kuchenbecker tried to capture her curious, docile nature and friendly, affectionate personality, he said.
Capture Wisconsin
In his four decades as an artist, he estimates he has created a total of around 50 paintings – 30 of which are of Wisconsin scenes and almost all of those 20 are from the Madison area.
Before beginning one of his watercolors, Kucenbecker takes a photograph of a scene in Wisconsin – such as the South Syene/Glacier Valley roads intersection of the Capitol City bike path in Fitchburg.
"This section of the bike path is particularly beautiful as it winds through low marsh areas, wooded sections and rolling vistas," he said. "It's a small sample of the diverse topography that encompasses Wisconsin located in Fitchburg."
Not only an artist and ecologist, Kuchenbecker is also a historical curator. He has a fascination with old Wisconsin barns and considers them one of the state's iconic landmarks. His grandparents had a farm in Neenah.
At the peak of the small family dairy farm in the mid-1930s, there were nearly 200,000 dairy farms in the state, he said. But as technology gave rise to larger farms, small dairy farms disappeared and in 2012 there were only about 8,000 small dairy farms. Wisconsin is estimated to lose one barn a day on average, Kuchenbecker said, which is why he tried to preserve some through his paintings.
He painted barns on the east side of Madison, as well as one near Seminole Highway and Lacy Road in Fitchburg.
It commemorated the Wisconsin State Capitol building, UW-Madison Memorial Union Terrace, and a Door County lighthouse.
It produces about two to three new plays a year, he said. Each takes a few months on average, but this can vary as they will recreate the same painting four or five times before feeling it the way they want.
"I'm a real OCD on the details," he said.
He said he used non-traditional watercolor techniques, creating multiple layers of washes to achieve lots of contrast between his light and dark colors.
Right now he is working on a sunset over a swampy area.
As he wants his works to bring tranquility, he always tries to relax and listen to music to get in the mood for what he wants to convey. He also wrote poems based on his paintings.
He mostly paints in the winter, calling it a cold weather effort, while he enjoys golfing in the summer.
Always aim higher
Kuchenbecker never received formal training as an artist. He worked for the Wisconsin State Office of Social Security and Disability for 30 years before retiring in 2006, when he devoted himself to art full time.
However, art was his favorite subject in primary school and he has taken university courses and a few workshops since then.
He quite often refers to five instruction books, as well as photos of other watercolors he has seen and loved over the years.
"I always think I could do better – I never felt like I was as good as I could be," he said. "I always see the work of others and I think I could do better. I am always improving my technique. It's an endless process. With watercolor there is always something you can improve on. I never became an expert on this.
He said he did his best work on a Doty Park tribute in his hometown of Neenah. His second best work, according to him, is the fall scene on the Capitol City bike path in Fitchburg. Of all his works, he could choose things to change for each of them, except for these two.
For the most part, he never takes orders because he never wants to disappoint someone when their idea of ​​what a room should look like doesn't match his. But he takes the occasional recommendation, and when a small Middleton shop selling his art asked for pieces from around town, he created one from a Middleton farm and one from the Middleton Train Depot.
Whether painting sunsets, sandhill cranes, or rural Wisconsin barns, he hopes his works convey tranquility, spirituality, and a love of nature.
He also tries to support nature and spirituality by donating 75% of net profits from his art sales to three charities – Friends of the Earth, Lutheran World Relief and the Salvation Army.
"The purpose of my paintings is to induce a few moments of quiet relaxation and contemplation," Kuchenbecker said. "I also hope to instill an appreciation for nature and the need to protect the delicate balance between human needs and the fragile environment. I hope to achieve a global effect of harmony and coexistence between nature and humanity with a subtle involvement of the greater cosmos. Finally, I hope to convey the importance of our spirituality during our short earthly existence.