Hurry? Friday's environmental news in 60 seconds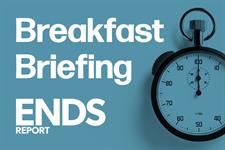 Raccoon dog on list of invasive species likely to reach UK
The raccoon dog and raccoon have been identified as invasive species with the potential to reach the UK, posing a risk to native wildlife and biodiversity, according to a DEFRA-funded study. READ MORE
Tackling nature and climate crises together, say global experts
Unprecedented collaboration between environmentalists and climatologists has called for the world's governments to jointly tackle biodiversity loss and global warming. READ MORE
Environmental bill: the dismay of the green groups over the details of the modification of the target of the species
Green groups responded with dismay to the detail of a new government amendment to the Species Abundance Environmental Bill, saying the language did not meet the Environment Secretary's promise to provide a "Net zero for nature". READ MORE
Controversial reservoir plans approved by second council
Proposals for a new reservoir, which would result in the loss of 14 hectares of old-growth forest and could harm species protected by the Habitats Directive, have received building permission from a second council. READ MORE
"Governance gap": the net gain obligation risks "not adding much" to biodiversity
According to an article published this week, the net gain on biodiversity requirement proposed by the environmental bill for developers could lead to poor biodiversity outcomes, as the provisions of the bill are insufficient to ensure that it materializes. of the promised gains. READ MORE
'Worrisome, but not surprising': scarcity of UK chemical compliance testing revealed
So far this year, UK local authorities have barely reported products as unsafe to the public due to chemical safety violations, compared to hundreds made in the EU. READ MORE
New database aims to help EIA for offshore wind
A UK-wide environmental evidence registry for offshore wind farms was launched today, providing a list of evidence gaps and relevant research regarding impacts on the seabed, marine mammals and sea ​​birds. READ MORE
In other news …
At their first meeting, before the G7 meeting today, US President Joe Biden and Prime Minister Boris Johnson signed a new "Atlantic Charter", echoing the name of the 1941 joint statement made by their predecessors Winston Churchill and Franklin Roosevelt.
"Just as our countries worked together to rebuild the world after World War II, we will also apply our combined strength to the enormous challenges facing the planet today – from global defense and security to the better reconstruction of the world. coronavirus to stop climate change, "a statement from Downing Street said.
The meeting, which will end on Sunday, will examine the plan to "turbo-charge" industrial decarbonization. READ MORE
Meanwhile, Sky News reports that Johnson defended his decision to fly to Cornwall by private jet, described as a "stupid plane" by Labor.
"If you attack my arrival by plane, I respectfully point out that the UK is actually leading the development of sustainable aviation fuel. One of the points of the 10 point plan of our green industrial revolution is to reach zero jet as well as net zero, "said the Prime Minister.
Write in time, Former Secretaries of State for Energy and Climate Change Amber Rudd and Andrea supported establishing a California-style 'zero emissions mandate' for automakers, an idea put forward by the Policy Exchange think tank. The proposal would force manufacturers to meet binding targets for the production of electric vehicles or to pay for loans from rival companies.
He got the backing of Transportation Secretary Grant Shapps last year. READ MORE
Copeland Mayor pleaded for employment interests to trump climate in debate over opening metallurgical coal mine in Whitehaven, reports Sky News.
Referring to the G7 meeting, Mike Starkie, Mayor of Copeland, said that if the Prime Minister, "sets a target in this conference for all other countries to get to where this country is now environmentally, we will make a huge leap forward. But we have to have a balanced approach ".
The mine planning request was presented by Communities Secretary Robert Jenrick in March. The turnaround was forced by opposition from environmentalists and members of his own party. READ MORE
Meanwhile, a key session of the International Maritime Organization's Marine Environment Protection Committee opened yesterday, aiming to reduce the carbon intensity of ships by 40% by 2030.
In a speech responding to the slow pace of talks, Secretary-General Kitack Lim said: "No one stakeholder can make decarbonization of shipping a reality by acting alone. [The] The IMO will demonstrate that it is on the right track to reduce GHGs in line with the temperature targets of the Paris Agreement. It will also reinforce the message that IMO is the only global forum to address climate-friendly shipping to any skeptic who might think otherwise.
The UK's sixth carbon budget will extend to both shipping and aviation. READ MORE