Mother-Daughter Duo Pen Cochrane Centered Children's Book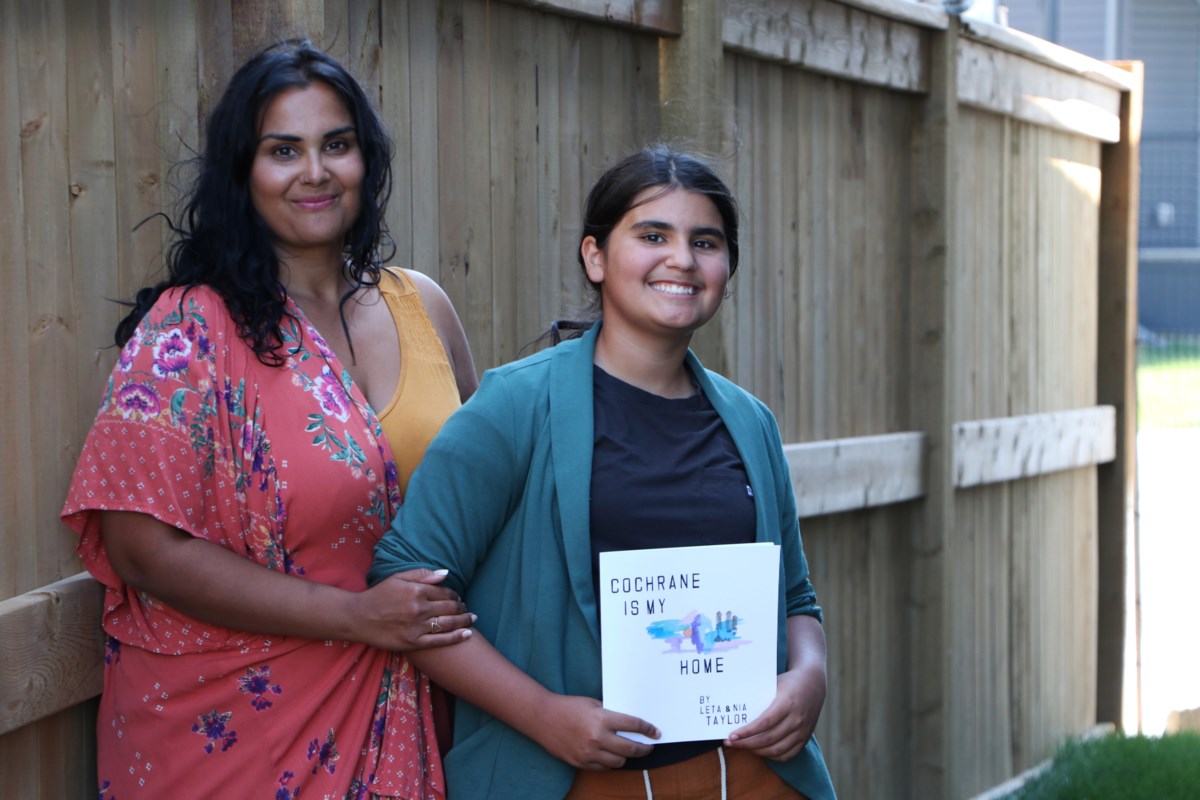 Cochrane has quickly won the hearts of new residents Leta and Nia Taylor, and they are eager to return that love to the community in the way they know best – through art.
Cochrane has quickly won the hearts of new residents Leta and Nia Taylor, and they are eager to return that love to the community in the way they know best – through art.
The mother-daughter duo recently co-wrote and illustrated a children's book that celebrates some of the city's natural beauty, titled Cochrane is my home.
"We're really big nature lovers, so we wanted to do something that was really about it because it's such an important part of our lives," Leta said. "We also wanted to create something that could help local conservation efforts."
Highlighting their love of nature, Leta said one dollar from the sale of each book will go to local rescues and conservation groups. Although they have not yet decided which organizations to donate to, some options could include the local Humane Society and the Cochrane Ecological Society, they said.
As 12-year-old Nia approaches her teenage years, Leta felt it was a good time to connect and bond with her daughter on the shared project, while simultaneously introducing herself to their new community in a meaningful way.
"We're both artists and I just thought we should do something together," she said. "With the timing of our move, we decided on this book idea – a minimal, heartfelt book about Cochrane.
"We also thought it would be a really cool way to meet people and contribute in some way to our new community."
Watercolor was the duo's favorite medium, as it's a painting method that Nia has recently explored through various personal projects, including card art, much of which she showcases on her YouTube. AccountMillennium Fox.
"We sat down and just started painting," Nia said, adding that they drew inspiration from what they loved most about Cochrane: its connection to a diverse natural world.
The theme of the book asks the reader what flora and fauna can be found in different topographies of the region, with minimal text and delicate hand-painted watercolors on each page. It also highlights natural phenomena and features such as the Northern Lights and the Rocky Mountains.
The Taylor family, including Leta's husband Joel and son Vance, visited Cochrane several times before moving from Calgary to the Willows neighborhood in January. Every visit to the city left them wishing they could stay longer, according to Leta.
"There is so much natural beauty. We love the mountains and the closer we can be to them the better. We are very outdoors people," she said.
"We were just coming here and playing in the parks, we loved the community feeling."
With the nearby mountains and river and close proximity to Calgary, the family felt that Cochrane would be an ideal place to settle. They finally found the opportunity to move here in January, when Leta's daytime business had slowed down due to COVID-19 and she was homeschooling her children.
Leta now runs Forest and Fox Dayhome from their home in Cochrane and continues to work from her home art studio creating abstract pieces under the company name. Arcardia Spaces.
Creating a children's book, she says, was very much inspired by her career in childcare and her love of children. The rest came "naturally".
"Between nature and art, I think both are so good for you mentally, and we really try to promote that in our family," Leta said. "Life can be stressful and doing things like getting out a canvas or some paper, or just being out in the fresh air can feel so amazing. I want kids to be able to have that same outlet, have things that aren't not screens and being able to use your creativity."
Cochrane is my home is on sale at Amazon for $18 and can also be purchased directly for $15 by sending Leta a Facebook post.