OEP monitors review of retained EU laws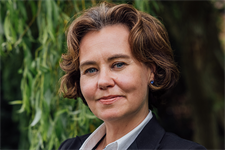 In an exclusive interview with ENDS, Natalie Prosser – who joined OEP as interim CEO in February 2021 and was named permanent CEO in April this year – said OEP will "watch what happens. with respect to review and change plans. or delete "very closely" retained European laws.
In June, ahead of the Conservative Party leadership race, Brexit Opportunities Minister Jacob Rees-Mogg invited the public to use a new website to identify which pieces of retained EU law have been transferred to the UK statute book – about 2,400 in number – they would. like to see discarded.
READ MORE: Watchdog unleashed: Natalie Prosser explains how OEP is already having an impact
Earlier in the same month, Rees-Mogg reportedly sparked a cabinet row by pushing for delayed post-Brexit laws to expire by the June 23, 2026 deadline, marking 10 years since the EU referendum.
According to reports, Environment Secretary George Eustice had warned Rees-Mogg that such an approach "could mean that time is wasted on minor issues as I have tried to focus my officials' time on bodies beacons of EU law that have the greatest impact". – such as the Habitats Regulation and the Nitrates Directive.
Green groups have expressed concern on the plans, pointing out that the European laws retained contain regulations responsible for keeping the environment healthy and safe, including on water, nature, chemicals and the use of pesticides.
Speaking to ENDS, Prosser said it was unclear what the exercise "will look like in practice".
However, she clarified that the plan would fall fully within OEP's oversight mandate. "It may well be that the overarching legislation creates vehicles through subsidiary legislation for this to happen," she said. "This is all within the law, as far as we are concerned we will be monitoring very closely what happens in relation to this."
"And if there are areas where we think OEP should make it a priority to get closer to some of the specifics of that, then that's what we will do."
Prosser continued: "The challenge for us will always be that there is an awful lot of European law retained. It will also be a challenge for members of the government. So I think the answer is that we have a pretty strong oversight mandate on this.
Headline-grabbing plans to overhaul and repeal retained EU laws have featured prominently in the campaigns of both Tory leadership candidates. Front runner Liz Truss has promised a 'sunset' for all EU spin-off laws within 15 months, while former chancellor Rishi Sunak has said he will task a new Brexit delivery department with examine the remaining 2,400 European laws with a view to abolishing or reforming them. all by the next general election, scheduled for January 2025 at the latest.
Read the full interview here.