Wildlife conservation NGOs call for end to trade in wild birds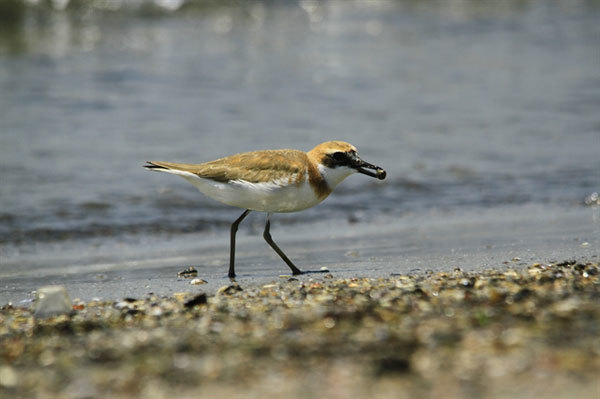 Representatives of 10 Vietnamese and international non-profit organizations working in the field of nature and wildlife conservation sent a petition to the Prime Minister to stop the trade in wild birds throughout the country.
Wild birds for sale at Thanh Hoa market in southern Long An province. Representatives of 10 Vietnamese and international non-governmental organizations working in the field of nature and wildlife conservation sent a petition to Premier minister to stop the trade in wild birds. Photo courtesy of PanNature
The NGO group includes WWF-Vietnam, ENV, PanNature, WildAct, Save Vietnam's Wildlife, Traffic Vietnam, HSI, GreenViet, Four Paws Vietnam and VietNature.
The letter read: "In the already difficult times of the 4th wave of COVID-19 in Vietnam, the galloping trade in wild birds nationwide which was recently reported by the press may cause more epidemics of other new emerging zoonotic diseases. This would pose a risk of creating epidemic disasters, destroying efforts and achievements in the prevention and control of the COVID-19 pandemic and causing anxiety throughout society. The World Health Organization (WHO) has scientific evidence confirming that 70% of all emerging infectious diseases in humans are transmitted by animals, most of which are wild. Wildlife markets (including wild bird markets and restaurants) are believed to have links to SARS, bird flu and COVID-19. "
He continued that the killing of wild and migratory birds has caused biodiversity loss and affected ecosystem functions and Vietnam's image on the international stage. Without drastic and effective measures to quickly end this situation, Vietnam is at high risk of being included in the list of countries with many species of wild and migratory birds threatened with extinction due to poaching and trade, although Vietnam is a member state of many international conventions. and commitments related to the protection of wildlife.
Vietnam has been identified as one of the most important areas in the bird flyway network of East Asia and Australia. The country became the 34th member of the East Asian and Australasian Flyway Partnership (EAAFP) in 2014 and has demonstrated a strong commitment to protecting wild and migratory birds.
Vietnam officially endorsed the World Leaders 'Commitment to Nature in Resolution 05 / NQ-CP of January 15, 2021, endorsing Vietnam's support for the World Leaders' Commitment to Nature on the occasion of the Nations Summit. United Nations Conference on Biodiversity in the framework of the 75th session of the United Nations General Assembly.
The letter explained, "In Article 6 of the Commitment, Vietnam joined 84 countries around the world to commit to ending illegal wildlife trade supply chains and working with communities. international organizations to ensure sustainable solutions for people and nature. The current slaughter of wild and migratory birds does not show that Vietnam has complied with article 6 of the Undertaking. "
A bird on a Da Nang beach. Migratory bird species often stop at safe destinations on their long journey to warm areas. – Photo courtesy of Minh Ha
According to international and Vietnamese NGOs, wild and migratory birds have long been hunted and illegally traded on a large scale and on a large scale in many places in Vietnam, especially in some hot spots around protected areas and biosphere reserves such as Xuan Thuy, Cat Ba, Tram Chim, Ca Mau National Parks and in major cities like Hanoi, HCM City and Long An (Thanh Hoa market).
He said that many rare, valuable and protected bird species from Viet Nam and the world are captured, slaughtered, stored and sold in the restaurant chain named "Birds Grow Up" and in stores selling wild birds, defying the police.
Recently, the problem has been exposed in numerous investigative press articles, drawing the attention of the public who have called for an immediate end to these destructive activities.
Vietnam is also home to more than 900 bird species out of 10,000 in the world (accounting for 9%), widely distributed throughout the country. Unfortunately, according to the Institute of Ecology and Biological Resources (IEBR), Vietnam has 11 critically endangered bird species, 19 endangered species, 28 vulnerable species and 50 near threatened species. With the current situation of hunting, trapping, capture and consumption of wild and migratory birds, the number of such lists will increase rapidly.
NGOs said they highly value the number of wildlife protection laws and regulations issued by the Vietnamese government. However, the absence of specific regulations on the protection of migratory and wild birds has weakened enforcement by the competent authorities. In particular, a number of wild birds and most species of migratory birds are not listed as threatened, rare and valuable species under Decree 06/2019 / ND-CP, Decree 64/2019 / ND- CP amending article 7 of decree 160/2013 / ND-CP, the police therefore have no legal basis to deal with cases or authorize very light sanctions.
To maintain populations of wild and migratory birds, conserve biodiversity, ensure the functioning of ecosystems and prevent epidemics, they ask the Vietnamese government to adopt a comprehensive approach with a series of specific measures as follows:
Strengthen the monitoring of the implementation of the Prime Minister's Directive 29 / CT-TTg of 23 July 2020 on a number of urgent solutions for wildlife management: ask the Ministries, agencies and localities to lead, supervise, evaluate, quickly reward good examples and apply strict discipline for agencies that do not strictly follow the directive.
People's committees at all levels should be responsible for the protection of wild and migratory birds; Amend, supplement and publish new specific laws and regulations for the protection of wild and migratory birds, in particular birds that play a pollinating and pest control role in agriculture, as well as strengthen sanctions against violations related; Issue legal documents prohibiting the advertising, sale, purchase, use of traps to catch and kill wild and migratory birds and other specialized homemade destructive tools; Issue legal documents prohibiting the consumption, killing, storage, transport, sale and purchase of wild and migratory birds, their meat and body parts; Develop a national action plan to protect and enable the recovery of wild and migratory birds; and participate in the Convention on Migratory Species (CMS).
The NGO group said it believes the government's firm decisions to protect wild and migratory birds are actions of practical importance for Vietnam to achieve the goal of reversing the trend of loss of biodiversity in the world by 2030, and prevent the risks of diseases caused by the trade and consumption of wild and migratory birds.
Source: Vietnam News
More than 1,130 wild animals saved in NV in 2020
No less than 1,132 wild animals were successfully rescued in Vietnam last year, according to Education for Nature Vietnam (ENV).
Vietnam has a legal framework for wildlife and needs better enforcement: responsible for the environment
Pham Van Dien, Deputy Director of the Vietnamese Forestry Administration, talks about the country's efforts to strengthen the legal framework for wildlife protection.